World TESOL Academy Reviews
Discover what our course graduates have to say now that they've finished studying with us.
---
Martin Székely in Hungary
"My name is Martin, and I am a language teacher. I'm Hungarian but I live in Berlin. I've been teaching English and German as foreign languages for five years now and I can say that this is the best job of my life. When I studied for my Master's at university as an ESL teacher, I had already heard about TESOL but I didn't have time to finish the course. Now I decided to do it and I got my certificate last week.
I can absolutely recommend World TESOL Academy to everyone because this is exactly the course that you're going to need if you would like to teach abroad and online. I didn't just refresh what I'd known before, but I also learned a lot of things about pedagogy and language teaching.  I enjoyed everything with the course, but my favorite was the online classroom part. So go for it, get your certificate. It's worth it and you won't regret your decision!"
Victoria's story:
"A great course for the price. I'm too busy for going to a class and need a recognized TESOL certificate for my online teaching work." 
I've recently learned about online teaching and decided to give it a try.  After some researching I found that I would need a "TESOL" or "TEFL" certificate to get employed by one of the big companies. The biggest companies are based in China and the law there says that you need a recognized certificate to teach.
The course took me about 10 days to finish and I completed it using my Ipad. As I was most interested in online teaching (at least for the time being) I found the online teaching module toe be particularly interesting.
See more reviews from our graduates:
Loren Sarenas from the Philippines
"Hi everyone! This is Loren from the Philippines, I recently took this course which is the 120-hour TESOL/TEFL certification by the World TESOL Academy. I decided to take this course for three reasons.
One being that World TESOL Academy allow you to preview the course before purchasing it. So, I checked the course and I really like how the lessons have been organized from the most basic to the most complicated concepts when teaching. The second reason would be that it's good for beginners. II don't have a rich teaching background and this course has explained the most complicated concepts through simpler terms. This allowed me as a beginner to understand these complicated concepts. Lastly, I liked this course as it was self-paced. I have a full-time job, and as the course was self-paced, it allowed me to absorb the concepts without the pressures of deadlines."
Accredited by ACCREDITAT:

We are delighted that World TESOL Academy has passed through the full accreditation process of ACCREDITAT, a leading independent and international accreditation body.
This accreditation confirms that the course, our tutors, our assessment instruments, and our company processes and procedures are to the highest quality and are fully geared to helping you succeed.
Read more about our accreditation here: Course Accreditation.
Bethany in the United States
"I've been teaching in private schools and giving private lessons at the high school and college level for several years in Mexico. I've always wanted to get the TESOL or something similar because it's a great thing to have, but i've never had the time or the money to do that. When I saw the advert for World TESOL Academy, and the price, I didn't believe it. So, I checked it out, i'm one of those people that will just check everything, research and research, and it looked legit, so I said what can it hurt."
Awonke in South Africa
"I recently completed the 120-hour TEFL course at World TESOL Academy, and have got my certificate here! I chose World TESOL Academy to complete my TEFL course because I had read all of the comments and reviews from people that had completed the course before me, and thought – I want to try them, I want to do my TEFL with them. I had absolutely no regrets after choosing them. The course is amazing, it was easily accessible, I learned a lot about English (even though i've learned it all my life) I still learned a lot."
Jeda Lee in South Korea
"Hi i'm Jeda Lee residing in South Korea, I just got my hard copy certificate today.  It took just 3 shipping days. I studied the TESOL for 2 weeks because I gave all my time just to study. I decided to take the TESOL course as it's a big advantage when you apply with schools and academies.
At first, I was really reluctant to enroll, but when I saw and read the positive comments I went and directly enrolled here.
There are 8 modules, and I enjoyed module 2 a lot (words and grammar). I would like to advise those who want to enroll here to not be reluctant and just enroll directly because it's trusted, worth it, and you'll learn a lot.  In my case even though I'd already started teaching but when I studied this TESOL at World TESOL Academy I learned new things."
Aleksandra in Serbia
"Before I enrolled in a TESOL course I already had an online job but I realised I needed some further qualifications. After some research on Google I found World TESOL Academy and I decided to apply. The reason why I chose World TESOL Academy was because they seemed very professional, I read a lot of positive comments and reviews, and the price was also very affordable.
When I started the course I was surprised by how much I actually didn't know about teaching English. I learned how to motivate my students, when to correct them, how to make good lesson plans and so much more. My advice for people that are planning to enroll in this course is to always have a notebook with you so that you can write down all the important information and also use the notes when you complete the course. I would also recommend setting aside at least 1 hour every day for practicing in order to complete the course as soon as possible."
Samuel's story: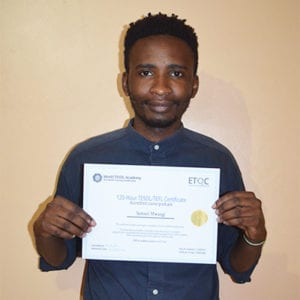 "I've gained some valuable tools that i've already started to use with my lessons. I'd 100% recommend to others looking for a TEFL course that doesn't break the bank." 
I arrived in Thailand just before the New Year, and started teaching English.  Until recently I worked at two schools by dividing my time between each one – a kindergarten in the afternoons and a cram school in the evenings.  I'd been advised that to find more permanent work I would need to gain some formal teaching qualifications so I decided to research online.
I found World TESOL Academy and decided to give it a try. It took about 7 days to finish the course but i've gained some valuable tools that i've already started to use with my lessons. I'd 100% recommend to others looking for a TEFL course that doesn't break the bank. Since completing the course i've been able to go full-time with my cram school and plan to move on to public schools after finishing my contract.
Khai in Vietnam
"…I was surprised by the tuition fee which was really low. Finally, I registered for the course to learn more about teaching skills, which i'm going to do in the near future. After completing the course i'm able to understand more about teaching skills, such as how to study pronunciation and how to teach students to master their knowledge of pronunciation…"
Lestey in Vietnam
"All of the content modules are interesting and worthwhile, though classroom management is what I enjoyed more because it taught me more ideas about how to be an effective English teacher. If you're looking for a course that will give you what you need to know to teach English abroad or overseas – this is the one, World TESOL Academy. "
More World TESOL Academy reviews:
You can read more verified reviews from our course graduates at Go Overseas and Go Abroad.

Go Abroad and Go Overseas are the only TESOL/TEFL review platforms with independent review verification.
Go Overseas: See reviews.
Go Abroad: See reviews.
Tim Dunaway in Vietnam
"I just finished the 120-hour course. It was a lot of fun – quite difficult. I learned things that i'd already knew but forgotten! It was challenging – somewhat- but very rewarding. I took the course on a recommendation from people i've met in town. I'm in Ho Chi Minh City and there's about 100 schools near here. I want to teach little ones and this course gave me a bunch of great ideas for younger learners. If you haven't taken the course and you want to spend some time in Vietnam, Thailand, Laos, wherever, take the course. It's very rewarding. I loved it, and you will too!"
Start your TESOL/TEFL course:
You can start studying as soon as you complete the enrollment.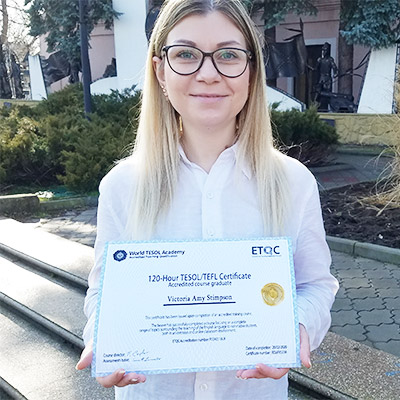 "A great course for the price. I'm too busy for going to a class and need a recognized TESOL certificate for my online teaching work. The company I work for started to require a TESOL recently so I enrolled in one course online but the certificate wasn't accepted. So after I enrolled here and the certificate was accepted because it has the unique ID number and other details needed." Victoria Stimpson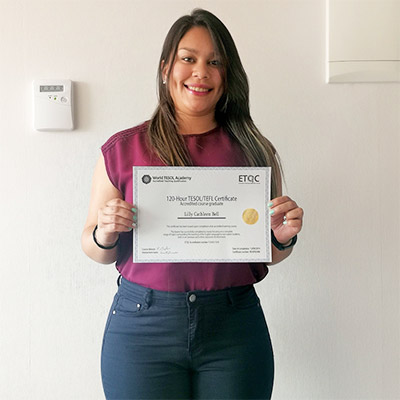 "TESOL has been a HUGE opportunity for me. I live in a rural area where fun jobs don't really exist. You either pack groceries, do farm work, or move away from home. Thanks to TESOL i've been able to start teaching kids online with DaDa."  Lilly Bell
"I had no idea how much i didn't know about English and teaching until I started this course. I thought that spending 30 years speaking English every day was enough experience to also teach it to others but I couldn't have been more wrong.  There are so many different techniques for each language skill, parts of the language I never heard of before, lesson planning methods for differnt purposes and so much more. " Keith Gräbner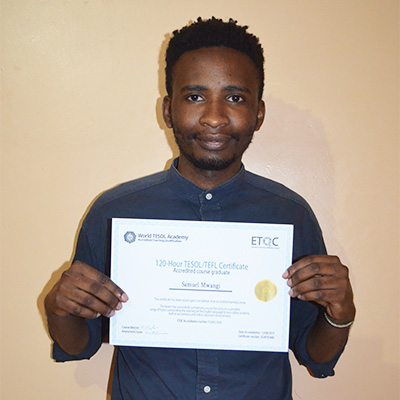 "It took about 7 days to finish the course but i've gained some valuable tools that i've already started to use with my lessons. I'd 100% recommend to others looking for a TEFL course that doesn't break the bank. " Samuel Mwangi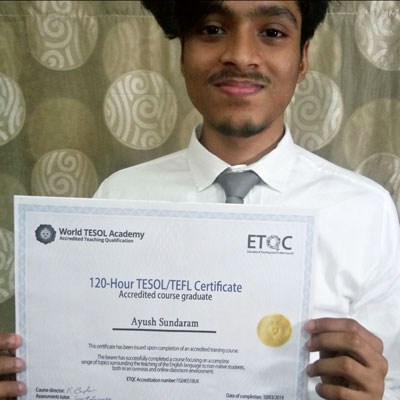 "Recommended. No regrets about taking this course. Gives a lot of insight that I hadn't considered before: planning lessons, making materials, online teaching. Value for the money and a professional certificate." Ayush Sundaram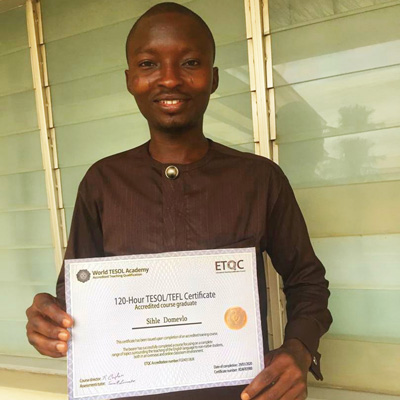 "I really enjoyed this course. I'm a teacher already but felt I should get some more professional training to support my classes. I haven't done online learning before but it was easy to do and worth trying for the price." Sihle Domevlo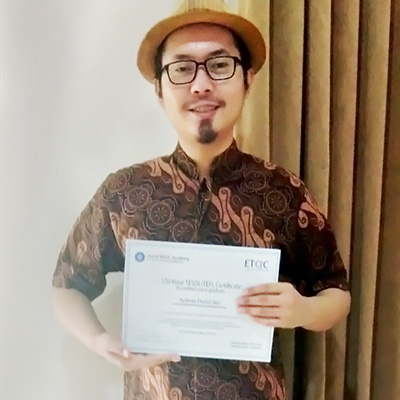 "I'm pleased to have been able to complete the TESOL course.  After 2 weeks I have my digital 120-hour TEFL/TESOL certificate and 2 weeks later I took the option for the hard copy certificate also. I would be pleased to recommend this." Andreas Sari